ReadyLIFT is excited to announce that we now offer an all-new 1.5-inch premium-grade SST Lift kit for· the brand new 2021 MY Ford Bronco Sport. The new 2021 Bronco Sport has quickly become a popular choice for adventure-minded enthusiasts. Every adventure-based vehicle performs better when given a quality suspension height improvement to increase ground clearance and provide gracious clearance for larger off-road-inspired wheels and tires.
ReadyLIFT SST Lift Kit #69-21150 is specifically engineered for the all-new 2021 MY Ford Bronco Sport – excludes Badlands and First Edition models. The kit utilizes our innovative offset-designed, fabricated heavy-duty steel plate top 69-21150 shown mount strut extensions to maintain factory alignment geometry for superior performance, ride, and handling even with an additional 1.5″ of lift. Factory rear suspension geometry is also retained thanks to our rear strut spacer/sub-frame spacer combination. This kit delivers easy bolt-on installation – no permanent modifications. The kit provides increased ground clearance when using a 245 series tire — allows for up to a 245/65-17 tire on 17×8 wheel with a +40 mm offset.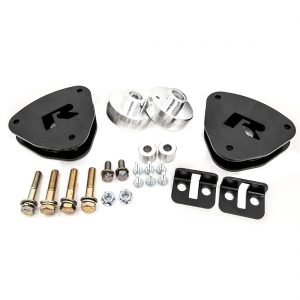 FEATURES:
Engineered to retain the factory ride and handling.
Offset design adjusts the position of the front strut to avoid interference and assist with maintaining the natural lifespan of the strut in a leveled configuration.
Provides 1.5″ of lift for added ground clearance and the ability to run larger wheels and tires.
Easy to install in 4 hours.
Maintains the factory G.O.A.T. modes.
Not for use on Badlands or First Edition models.
Allows for up to a 245/65-17 tire on a 17×8 wheel with +40 mm offset.