Complete BIG Lift Kits
Big lift kits are the full suspension solution for your complete lift kit package by ReadyLIFT. Run large tires and give your truck an aggressive look. ReadyLIFT's big lift kits provide maximum lift while maintaining factory handling. Big Kits will allow you to take your off-road adventure to the next level.  This is the go-to truck lift kit for performance-minded customers. If you want a really large lift on your truck, suspension lift kits deliver, allowing you to achieve up to 6, 7, 8, or 9 inches of lift. These kits are also excellent if you want to really build a customized truck because they allow you to virtually install any tire and wheel size.
A suspension lift kit raises a vehicle by either spacing the stock suspension or replacing the entire suspension system with coils springs, torsion bars, lift blocks or add-a-leafs (AALs) to raise the chassis. This creates additional ground clearance and the increased height of the wheel well is able to accommodate larger tires. Not only does this make your truck look tough, but it also enhances its off-roading capability.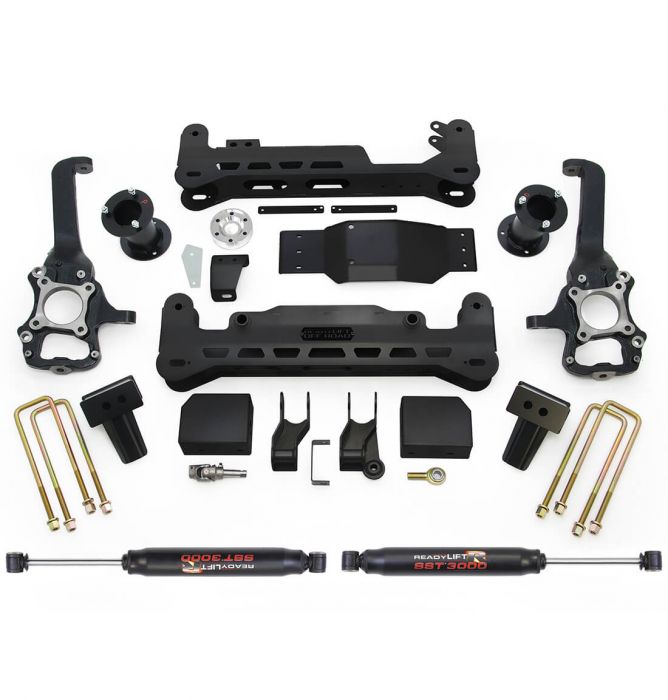 Gives your vehicle a more aggressive appearance
Increase ground clearance
Run up to a 37"+ tire
Engineered for maximum lift
Maintain factory geometry & turning radius
Heavy-duty cast nodular iron steering knuckles
Highest quality hardware
Laser cut heavy-duty steel cross members