ReadyLIFT® is proud to announce that our 6″ lift kits for the 5th gen 2019-2022 RAM 1500 trucks now come with the all-new Falcon 1.1 Monotube rear shocks! After dedicated development and long-term testing, we are now shipping our RAM 1500 Big Lift Kit for the customer seeking unmatched performance, style, and durability.
The 6″ lift kits include many great features like rear Falcon 1.1 Monotube shocks, dual-rate rear coil springs, and rear control arm brackets which combine to better capture small bump sensitivity and mid-stroke support. Laser-cut heavy-duty steel front cross members and differential drops retain factory geometry while providing proper differential rotation to ensure there is no driveline vibration when in 4WD or Auto-4HI.
These RAM 1500 6″ lift kits adopt all the important elements of a premium lift kit to ensure the truck rides and drives remarkably. Rear track bar bracket, Falcon rear shocks, longer rear sway bar end links, heavy-duty cast iron knuckles, and even new thick steel skid plates are just a few of the ingredients contributing to an amazing driving experience on up to 37×12.50 tall tires on 9″ wide wheels with 0 offset.
Note: If installing this kit in any "Off-Road Group Package" equipped truck, ReadyLIFT recommends foregoing the front preload spacer installation – the lifted vehicle will sit about 1/2″ front high with the preload spacer installed or 3/8″ low without the preload spacer. This kit is NOT compatible with RAM TRX or RAM 1500 Classic.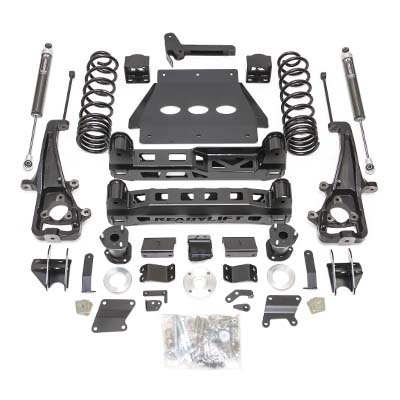 Features and Benefits:
6″ lift kit for 5th Gen Ram 1500 – 2019-2022 MY.
Includes Falcon rear shocks specifically sized and tuned for the 6″ lift kit.
Recommended max tire with no trimming: 37×12.50 tire with a 20×9 0 offset wheel.
*Max with trimming: 37×12.50 tire with a 20×10 -18 offset wheel.
Cannot use 18″ wheels with this application.
***Only works on new body 2019-Up RAM 1500. Not compatible with RAM 1500 Classic.
PN: 44-19601 – 6" Lift Kit w/ Falcon Shocks w/ Coil Spring Suspension
PN: 44-19610 – 6" Lift Kit 22″ Wheel Configuration w/ Falcon Shocks w/ Coil Spring Suspension
PN: 44-19621 – 6" Lift Kit w/ Falcon Shocks w/ Factory Air Suspension
PN: 44-19623 – 6" Lift Kit 22″ Wheel Configuration w/ Falcon Shocks w/ Factory Air Suspension