Toyota's newest Tundra has become a popular choice for new truck owners. And like the Tundras before it, new 2022 owners want a quality bolt-on lift system that increases ground clearance and adds room for larger wheels and tires, all while maintaining the great factory ride and handling.
The ReadyLIFT 69-52310 3" SST Lift Kit is exclusively engineered for the new 2022 Toyota Tundra pickups including the i-FORCE MAX hybrid powertrain. This new SST lift kit is a unique, second-generation version of our popular 3" SST lift kit for the 2021 and older models. Many of the same premium features found in that timeless Tundra kit have migrated to the new 69-52310 kit such as an updated version of our popular tubular control arms with corrected ball joint pivot angles. All-new fabricated steel front strut spacers and precision fabricated heavy-duty steel coil spring spacers give the 2022 Tundra a nice, nearly level stance with 3" of lift. The kit includes new rear shock extensions to retain the use of the factory rear shocks.
The all-new 69-52310 2022 Toyota Tundra 3" SST lift kit is an excellent choice for those who want to run larger tires such as 35s. The maximum size for use with this kit is a 35×12.5 on an +12 offset wheel.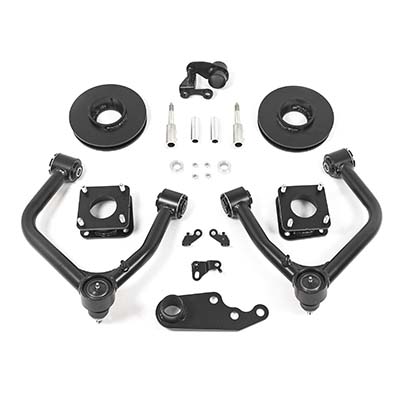 Features and Benefits:
Bolt-on installation – no modifications required.
3" front lift with a 1.25" rear coil spring spacers.
Allows for up to 35×12.50 tall tires when used on a +12mm offset wheel.
Includes strong tubular steel Upper Control Arms with heavy-duty ball joints.
No cutting of OEM parts or welding
Maintains factory ride
*Note: Kit does not fit Tundra equipped with Load-Leveling Rear Height Control Air Suspension or Adaptive Variable Suspension (AVS).