The 2019-UP GM1500 pickups, known as the Chevrolet Silverado 1500 and GMC Sierra 1500 (including TrailBoss, AT4, Denali, etc), have been very popular since their inception in the summer of 2018. These trucks are available in a multitude of trim packages, powertrains, and suspension configurations. ReadyLIFT has worked diligently to develop lift kits with specific fitment on all GM1500 applications ranging from 2" to 8" depending on the customer's lift needs. To date, we have over 15 SKUs fitting various 2019-UP GM1500 applications.
Recently, GM has introduced a new rear suspension component often referred to as a rear composite leaf spring across many more GM1500 trim applications. This composite leaf spring design is NOT CURRENTLY COMPATIBLE with ReadyLIFT lift kits due to the unique 'round' factory U-bolt design. ReadyLIFT GM1500 lift kits include 'square' U-bolts that mate as intended with the traditional GM1500 rear suspension leaf pack. The kit's square U-bolts are not interchangeable with the round U-bolt vehicle setup.
To minimize the installation fitment confusion, ReadyLIFT added this website product note to assist dealers and consumers trying to find the right lift kit for their vehicle. This note can be found on all ReadyLIFT 2019-UP GM1500 truck lift kits with some form of rear lift via block & U-bolt.
NOTE: This GM1500 kit is NOT COMPATIBLE with vehicles equipped with rear composite mono-leaf springs. The mono-leaf is easily identifiable – the U-bolt is round/circular around the top of the leaf spring. This kit only works with vehicles equipped with traditional steel leaf springs – identified by 'square' U-bolts.
How To Identify a Composite Leaf Spring Equipped GM1500?
Before ordering a ReadyLIFT GM1500 Lift Kit, please check the rear leaf spring for kit compatibility. A quick inspection of the U-bolts will reveal is the existing ReadyLIFT kits fit on the vehicle.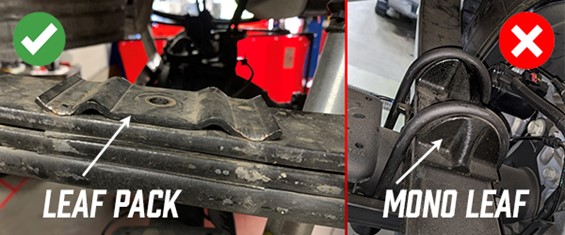 ReadyLIFT is working on new rear block and U-bolt solutions for the GM1500 composite leaf spring; however, we don't have an ETA.  Please inspect all vehicle prior to kit installation to ensure a successful build.