ReadyLIFT continues to have tremendous success with our 2" leveling and 3" SST lift kits for the 2022-UP Toyota Tundra and we are excited to announce two all-new suspension solutions: our all-new 6" lift kits and our new 3" SST for trucks equipped with rear coil spring and factory air configuration. Drawing on our Tundra first-class product success, ReadyLIFT Tundra 6" lift kits incorporate our all-new Falcon 1.1 monotube shocks specifically designed, engineered, and tuned for 2022-2023 Toyota Tundra Trucks!
The all-new 6" lift kits for Tundra trucks are packed with great standard features! Starting with our ultra-strong laser cut, CNC bent, welded, and boxed sub-frame drop assemblies that maintain suspension geometry and increase available ground clearance! Our proprietary, precision-designed cast iron front knuckles feature CNC-machining to ensure fit while retaining the factory tie rods with minimal trimming required.
The ReadyLIFT sub-assembly design features a truly innovative approach to dropping the differential. The differential drop system is engineered for easy installation. The sub-assembly correctly positions the differential to maintain CV axle and driveline angles. With 44-52620 & 44-52660 lift kits, customers can rest assured premature tire wear won't be an issue. The ReadyLIFT system is built around maintaining proper alignment and geometry specifications. Additionally, ReadyLIFT also includes thoughtful accessories such as new bump stop extensions all the way around as well as sway bar frame mount brackets to keep the front sway bar in a factory geometry. All of this contributes to an excellent driving and handling suspension system that truly elevates the typical Toyota Tundra truck!
The all-new 3" SST Lift for the 2022 Tundra is exclusively for trucks equipped with Toyota's load leveling / rear height control air suspension – known as Adaptive Variable Suspension (AVS). This new kit gives customers that level lift on all four corners of the uniquely equipped trucks. This new kit is the fast, reliable, and cost-effective way to bring the front of your vehicle level with the rear for that ideal lifted stance. Our front strut spacer eliminates the hassle, time, and concern of compressing springs while our rear airbag spacers allow the user to maintain the full range of use incorporated in the factory rear air system. Shock extensions, brake line spacers and brackets, and a slotted rear ride-height sensor bracket (for fine-tuning adjustments) are included in the kit.  

6″ Big Lift Features and Benefits:
Allows for 5.75″ backspace (18-20mm Offset) on 20×9 with 35″ tires
Max tire with trimming 5.5″ backspace (10-13mm Offset) on 20×9 with 37″ tires
Includes two Falcon 1.1 monotube rear shocks
Retains factory turning radius
Allows for use of stock 20" wheels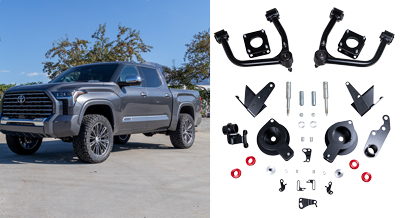 3″ SST Lift Features and Benefits:
3" Lift allows for up to 35×12.50 tall tires when used on 18″x9″ wide wheels with a +12mm offset
Maintains full operation and range of OEM load-leveling system
Retains factory turning radius
Allows for use of stock 20" wheels
NOTE: Not for use on 2022+ Tundra TRD Pro w/ Bilstein coilover shocks, the TRD rear sway bar option.  Kits only work with factory 20″ wheels – will not work with factory 18″ wheels. Most aftermarket wheels are compatible (confirm fitment prior to installation).