Lifted truck customers are in the market for trucks that can handle tough terrain. Look no further than ReadyLIFT's new Leveling and Big Lift Kits engineered exclusively for the 2022-2023 Chevy Silverado 1500 ZR2 and GMC Sierra 1500 AT4X trucks. These two top-of-the-line kits provide an impressive lift, allowing for greater clearance and enhanced off-roading capabilities. But what sets ReadyLIFT apart from the competition? It's our relentless focus on ride quality combined with our strict adherence to quality standards and dedication to customer satisfaction. With ReadyLIFT, you don't just get a lift kit, you get peace of mind that your vehicle will excite and delight your senses (just don't taste it).
Leveraging one of our top-selling application designs for the AT4 and TrailBoss 1500 trucks, our engineers adapted the quality and features into the all-new AT4X and ZR2. Forget squeaks, rattles, and vibrations; these lift kits ensure superior performance with smooth rides over all terrain. Designed to provide more ground clearance and increased flexibility on the street or trail, the big lift kits utilize boxed steel front/rear cross members and a full-width front skid plate constructed of thick 3/16″ plate steel. New 1/4-inch boxed plate steel differential drop brackets feature a double gusset and boxed center rib to take the abuse of front differential torsional twisting on the big kits.
The leveling kit provides the required amount of level lift without causing compromises to the factory strut geometry and clearances with our new interlocking pre-load spacer for ease of installation. Considering the factory upper control arm's limited dynamic range when the AT4X/ZR2 truck is further lifted, this leveling kit includes our popular tubular upper control arms with corrected ball joint cup angles, heavy-duty replaceable ball joints, and our new Terrain Control Technology (TCT) maintenance-free pivot bushings with side-biter washers to improve alignment retention.
Our Big lift kits feature heavy-duty angled and offset top mount strut extensions that realign the struts to optimize shock performance and minimize wear. A specially designed lower mount strut pre-load spacer offers the added benefit of a slight increase in spring rate to better manage unsprung mass resulting from the larger wheels and tires finding their way onto this newly lifted truck. To lift the rear, new fabricated steel rear blocks with integrated bump stop landings are added as well as new rear shock extensions to retain the factory performance shocks.
With thousands of engineering and development hours and more awesome features than we could possibly mention, these are the best lift kits available on 2022-2023 GM 1500 ZR2/AT4X trucks!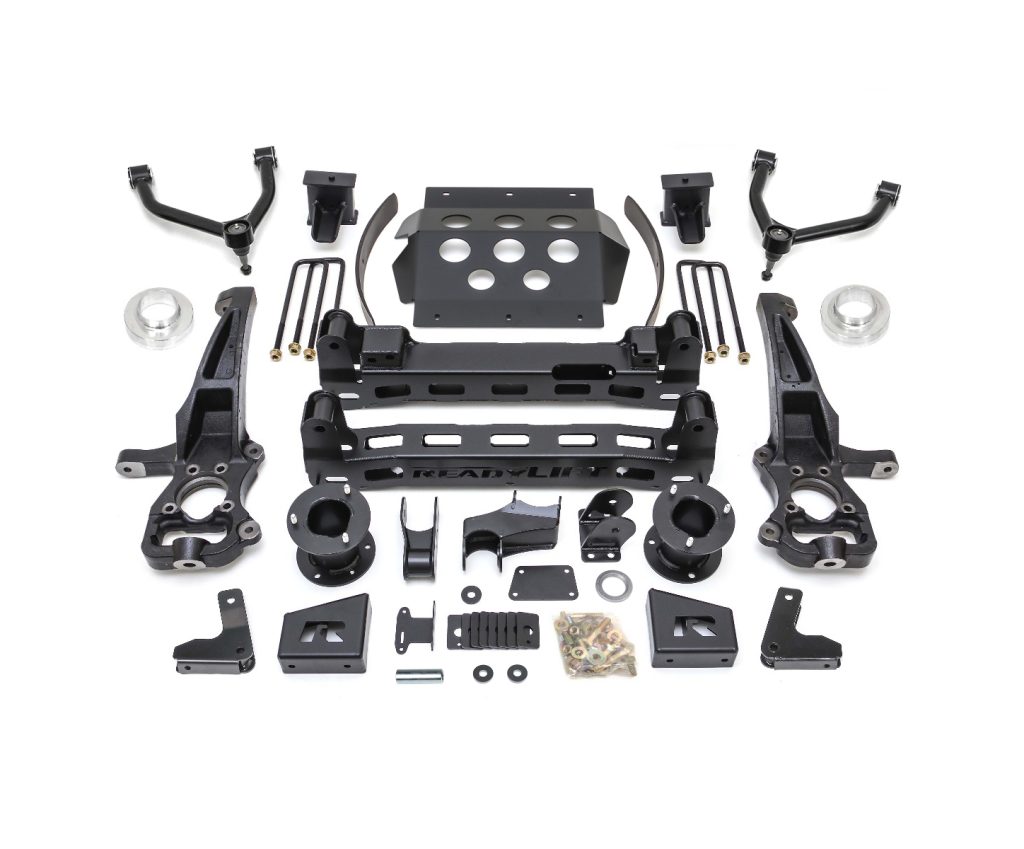 Big Lift Features and Benefits:
• 4" (4" + 2") kit yields 6" of total lift with factory 2" lift and ReadyLIFT's 4" lift
• 6" (6" + 2") kit yields 8" of total lift with factory 2" lift and ReadyLIFT's 6" lift
• Delivers clearance for increased aftermarket tire sizes – up to 37×12.50 on 6-inch kit on 9″ wide wheels with 0 offsets with no trimming -18 offset will require minor trimming.
• Tube steel upper control arms with maintenance-free pivot bushings and 1-ton ball joints. (6" kit only)
• 3/16-inch-thick steel plate cross members and skid plate.
• Anti-torsion boxed and gusseted plate steel differential drop brackets.
• Includes ReadyGuard Powertrain Warranty.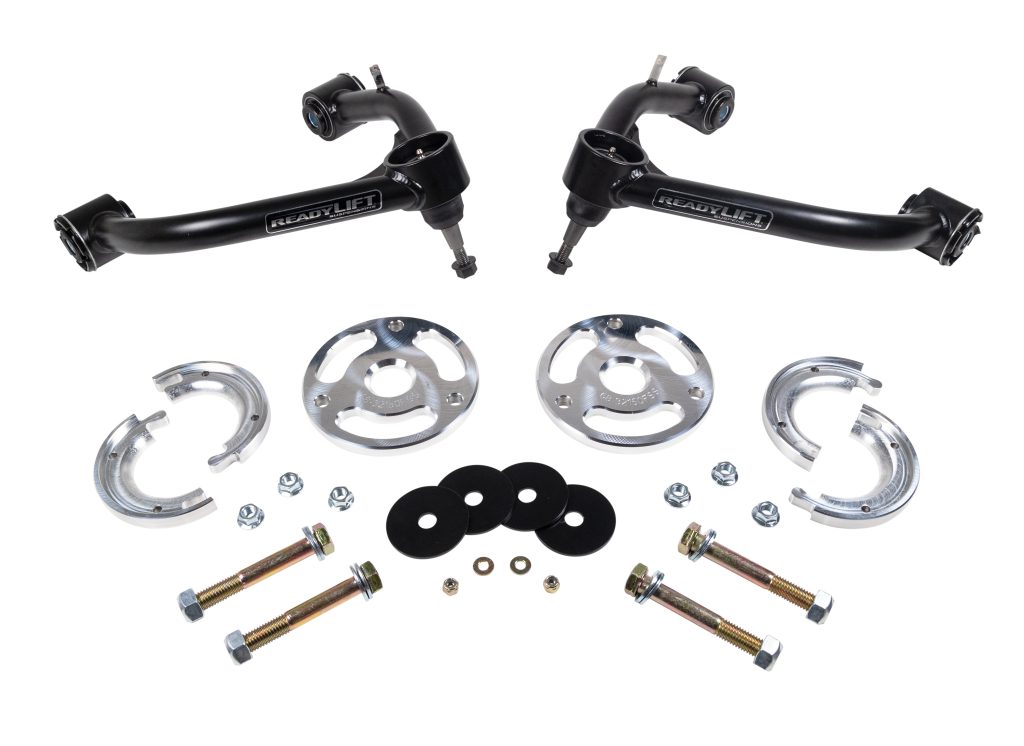 Leveling Kit Features and Benefits:
• Tire 33×11.50 on 20×9 0 offset wheel
• Max tire with trimming 295/60-20, 20×9 0 offset wheel
• Features interlocking 'puzzle-type' pre-load spacer for easy installation
• Includes DOM tube steel upper control arms with TCT maintenance-free pivot bushings.
• Retains factory turning radius.
• Includes ReadyGuard Powertrain Warranty.
NOTES: Use of Auto 4 Hi feature not recommended. Big Kits not compatible with rear mono-leaf springs.