ReadyLIFT is excited to announce three all-new lift kits added to our extensive product lineup: 2021-2023 Ford F-150 Tremor 3" front leveling with Falcon 1.1 rear shocks, 2019-2023 Toyota RAV4 TRD 2" SST Lift Kit, and the all-new 2023 Chevrolet/GMC Colorado/Canyon 1.5" Leveling Kit.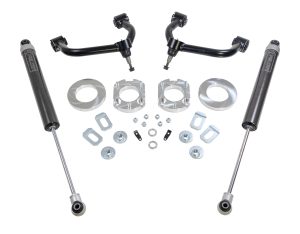 2021-23 Ford F-150 Tremor 3" Lift Leveling Kit
The new 2021-2023 Ford F-150 Tremor 3" lifted and leveled kit now includes Falcon 1.1 Monotube rear shocks. Lift the front of your F-150 Tremor with the front CNC-machined billet Aluminum lift components and our popular tubular control arms with corrected ball joint pivot angles. Our front lift is ideal to give the perfect level-lifted stance when compared to the factory-raked stance on the F-150 Tremor.
F-150 Tremor Features:
Allows 35X11.50 or 295/60-20 Max tire size on a 9″ wide wheel with +18 offset
Max tire with trimming 35X12.5″ wheel 20X9″ with 0 offset
Includes strong tubular DOM steel Upper Control Arms with heavy-duty ball joints and TCT bushings.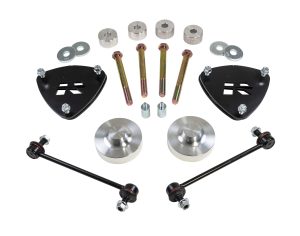 2019-2023 Toyota RAV4 TRD & Adventure Edition 2" SST Lift Kit
ReadyLIFT's 2″ lift kit for 2019-2023 Toyota RAV4 vehicles has been a huge success so the engineers reengineered the kit to fit the popular TRD and Adventure Edition models. The RAV4 has become a choice for adventure enthusiasts who not only want a great riding vehicle on the road, but demand one that is also more capable in off-road environments. Using our popular offset spacer lift technology developed in our extensive CUV line of products, our engineers have recently completed a new lift solution that lifts the 2019-2023 Toyota RAV4 TRD and Adventure Edition 2″ for a taller stance increasing ground clearance and allowing for larger tires.
Rav4 TRD Features:
Works with factory lifted RAV4 TRD and Adventure Edition
Offset designed fabricated heavy-duty steel plate top mount strut extensions to maintain factory alignment geometry.
Tested and approved to work with Toyota Safety Sense*
Allows for up to a 245/65-17 tire on 17×8 wheel with +35 to +38 mm offset.
*If the vehicle is equipped with active or passive safety/collision monitoring and/or avoidance systems including, but not limited to, camera- or radar-based systems, check, adjust, and calibrate the vehicle's systems for proper aim and function.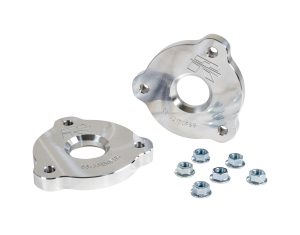 2023 GM Chevrolet Colorado / GMC Canyon 1.5" Leveling Kit
The new Leveling Kit for the 2023 Chevrolet Colorado and GMC Canyon provides 1.5 inches of front leveling lift delivering a neutral stance. This kit installs with no cutting or modifications to the suspension or strut and will provide the necessary lift for a level stance without compromising the factory geometry or limiting suspension travel. The vehicle aligns to factory specifications after installation and will allow for an increased tire size and no rubbing up to 265/65-17.
Colorado/Canyon Features:
Allows 265/65-R17 Max Tire Size
100% CNC Machined 6061-T6 Billet Aluminum Construction
No Cutting Required – Direct Bolt-On Installation