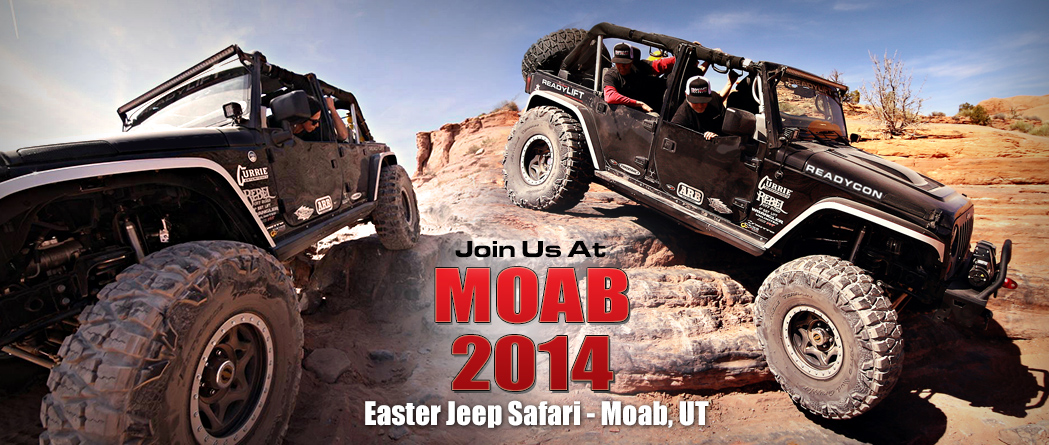 -Moab Utah, April 14 2014
For those who may not be in the know, the Easter Jeep Safari is one of the biggest and most popular off-roading events of the year. This week long outdoor off-roadfest consists mostly of day long trail rides departing from Moab Utah April 12-April 20. The largest event of the excursion is "Big Saturday" which culminates in the largest ever single trail ride departure where around 30 groups will line up in downtown Moab to head off in every direction for 30 different trails!
The best off-road manufacturers from all over the country will be in attendance, like ReadyLIFT® Offroad Suspension. Nicole Johnson and the famous ReadyLIFT® off-road Jeep Rockanne, will be attending the week long Jeep Safari and showcasing some of the best off-road suspension components on the market. ReadyLIFT® will have a display booth of their full line of off-road suspension products including, precision engineered upper and lower control arms, performance shocks and custom designed trac bars and steering kits for multiple models as well as all the best off-road lift kits for Jeeps, trucks and SUV's.
So pack up the family and make your way to the desert for a week's worth of good wholesome fun in the dirt and learning all about ReadyLIFT's newest and best off-road lift kits that you have been missing out on. You can learn more about ReadyLIFT® Suspension  and their full line of products at: www.readylift.com.