As the world grows more and more interconnected with product reviews and testimonials, the user experience of products can be spread like wildfire which in turn is both good and bad for businesses. It is an invaluable asset as excellent products can be shared and talked about well beyond the speed of a traditional advertising campaign that can bring increased sales and growth to an otherwise unknown company or product. But with the good comes the bad, as consumers are becoming more and more savvy and have many more resources to call out flaws or problems that may have overlooked in the early stages of R&D. The thing to remember is the heart of any manufacturer is the strength and experience of its R&D department. The production of consumer goods and products rests on how well designed and tested those goods are and more and more companies are turning to professional software like SOLIDWORKS, a 3D CAD design software from Dassault Systemes, to ensure that their products can stand up to consumer demands.
ReadyLIFT Suspension in Henderson, NV. is such a company that has adopted this program and utilized it with the development of its truck and SUV leveling, and suspension lift products. Curtis Zamora, a lead R&D manager in the development and testing of new products, has recently earned a CSWP (Certified SOLIDWORKS Professional) certificate placing him in an elite group of only a few thousand out of the hundreds of thousands of SOLIDWORKS users in the USA. Zamora had to learn and test in a broad range of the software program and pass a series of tests to be awarded with this certification. "The tests were very comprehensive and challenging," said Zamora. "I'm really proud of my achievements, both in this certification and in my abilities to apply it to my daily work and ReadyLIFT suspension design."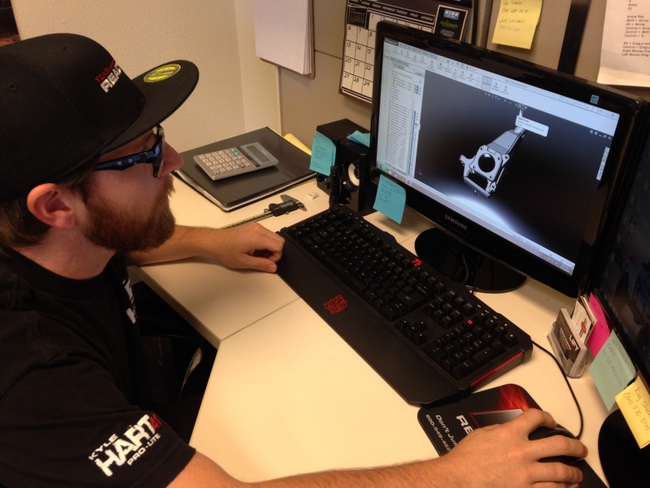 Curtis Zamora and ReadyLIFT use the SOLIDWORKS programs and the simulation software to take a new component being developed and test their full range of functionality and engineer the best products possible. "This is really the foundation of our engineering," reported Curtis. "The programs let me perform stress tests, identify possible problems and redesign them to be stronger, as well as allowing me a better view into our product and how all our components would interact together in a kit. In essence, we can design performance."
Curtis went on to say that he plans on continuing his education and training through the SOLIDWORKS certification programs to further strengthen his engineering knowledge and skills. As a vehicle's suspension is a tightly interconnected collection of moving parts that require the utmost harmony for optimum performance, ReadyLIFT is sure to continue developing more of the highest quality on and off road suspension kits on the market. To see a full selection of these suspension kits for your truck or SUV visit:  www.readylift.com.
For more information regarding Dassault Systemes SOLIDWORKS program, please visit: www.solidworks.com
SOLIDWORKS and all its additional programs are the property of Dassault Systemes and SOLIDWORKS Corp.