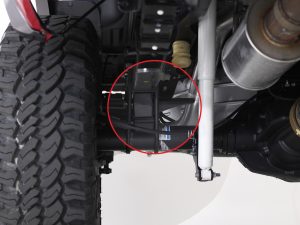 For many people, rear block kits are a necessity. The reasons for wanting or needing a rear block kit are vast and various, much like the sizes of rear blocks that are available. Rear lift block kits serve a variety of purposes; in lift kits such as our ReadyLIFT SST Lift Kits or our larger Complete Lift Kits, taller rear blocks are the ingredient that supplies the lift to the rear of the truck.
Most every truck offered by a manufacturer comes with some amount of rake. Rake is the height difference when comparing the front to the rear; essentially the front sits lower than the rear. Manufacturers do this for good reason. Although trucks today are definitely nicer than most cars, the fact still remains that trucks are engineered around a utilitarian application — they are engineered to haul and tow stuff. The "rake" is the result of the rear of the truck sitting higher than the front so that when the weight of cargo is placed in the bed, or a trailer is attached to the hitch, the rear will not sag low and cause unwanted towing and handling problems.
If you buy a ReadyLIFT Lift Kit of any kind, it will include a rear block or rear coil spring spacer to lift the rear equal to or higher than the front. The amount of rear lift will vary depending on the vehicle and how much lift is being applied. We do offer several lift kits with different size rear blocks to help the customer personalize their overall lift package. Some people want a near level stance, others may want more rake for towing. Either way, we do provide options.
ReadyLIFT Rear Block Kit Solution
ReadyLIFT was the first company to offer OE style cast iron rear lift blocks complete with longer u-bolts and hardware. Prior to our offerings, enthusiasts could buy a universal rear block, but then they'd have to find their own u-bolts. We took all of the guesswork out and developed rear block kits specific to the vehicle and u-bolts specific to the amount of rear lift. We offer rear block kits from 1 inch to 5 inches in height, again depending entirely upon the application.
This leads us to a very important subject when discussing rear blocks; many truck models come from the factory with a rear block. Since stacking rear blocks is illegal in most states, when you install a taller rear block kit, you remove the factory block. If the factory block is 1 inch tall and you are installing a 2 inch rear block kit, you will be getting 1 inch of rear lift. Earlier F250 Super Duty models came with a 2 inch rear block. If you install a ReadyLIFT 4 inch rear block, you will be getting 2 inches of rear lift. Install one of our 5 inch rear blocks, you get 3 inches of rear lift. Some trucks like Toyotas have no rear block, so the size of the rear block you install is the same as the amount of lift that you will get. Remember, stacking rear blocks may be illegal in your state, so be sure to keep that in mind when making a rear block kit purchase.
Are Rear Blocks For You?
Well, that depends. Have you installed a leveling kit and decided that you need more rake for towing? Then yes, a rear block is what you need. Do you have a stock truck and just need more rake (rear lift) to help with load capacity handling? Rear blocks will help you. Is your truck an older model and the rear leaf springs have started to sag? Adding a taller rear block can help get the rear of the truck back up to where you want it.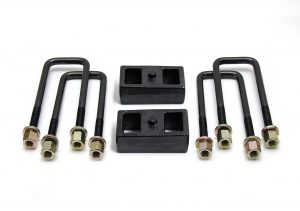 All About ReadyLIFT Rear Block Kits
There are a wide range of reasons why you may want to install a ReadyLIFT rear block kit, and chances are good that ReadyLIFT has the size of rear block that you need. Our rear blocks are made from cast iron just like the factory blocks and include the right taper to correct pinion angle. Our blocks also feature built in centering pins and a tough black e-coat finish for extra durability in even the toughest conditions. On many of our rear blocks, we incorporate the factory style bump stop landing which is critically important. If your factory rear blocks have bump stop landings, you want to be sure and replace them with blocks that have the same landings.  For some applications like Super Duty trucks, we specifically engineered both flat and tapered rear blocks depending on whether your truck has a single or two-piece driveshaft.
It should be noted that on most applications when you lift the rear 2 inches or more over stock, you may need to install longer rear shocks. There are a few exceptions, but in general, most factory length shocks do not have enough extended length to accommodate 2 inches or more of rear lift. Our SST3000 rear shocks are engineered for each rear lift height. OR, in some case like with GM trucks, we offer rear shock extensions which allows you to retain use of the factory shocks.
When it comes to lifting the rear of your truck, you generally have several height options to choose from. Once you understand what is needed and what configuration your truck currently has, making a choice is pretty simple. To view our expansive line of OE quality rear lift block solutions, cruise over to www.readylift.com and type in your vehicle to see all that we offer. Chances are, we have a rear block kit waiting for your truck.