Stamped Steel, Aluminum, and Cast Steel Control Arms
For the 2014-2016 Chevy Silverado and GMC Sierra 1500 trucks, GM offered three different upper control arms: stamped steel, aluminum, and cast steel. Additionally, in 2014-2016 GM truck had two different knuckles—aluminum and steel—each with different ball joint hole sizes.
Stamped steel and aluminum arms have a larger ball joint that fit the same knuckle. Steel knuckles with Cast steel control arms had smaller ball joint holes that match the cast steel arms only. This is the same setup found on 2007-2014 models. Cast steel and cast aluminum arms have retention clips on the ball joint so if the ball joint cup becomes distorted, it does not fail.
New Stamped Steel Arm Design
The NEW stamped steel arms have a ball joint that is sandwiched between the upper and lower pieces of the arm with a relatively small surface area for ball joint retention with no supporting clips.  If these cups distort, the ball joint fails and falls out.
GM 1500 trucks built after April 1, 2016 are stamped steel arms mated to smaller steel knuckles with the larger of the two ball joints. Basically, they are using the larger ball joint from the aluminum arm and putting it in a stamped arm and mating it to a smaller steel knuckle.
For the 2014-2017 GM 1500 trucks, ReadyLIFT offers two versions of our 4" SST lift kit. This is determined by which upper control arm that your truck currently has.
69-3414 – Aluminum and Stamped Steel UCA trucks.
69-3416 – Black Cast steel UCA trucks.
To safely level your GM 1500 with stamped steel control arms, you can use our 66-3085 leveling kit. However, we recommend that you augment the installation with a set of aftermarket upper control arms to prevent factory ball joint failure.
Bottom Line
If your truck has stamped steel upper control arms and you want to level or 6″ lift your truck—you will need to install either an aftermarket upper control arm OR purchase the factory aluminum upper control arms to replace your stamped control arms. There is no failure issue with the factory aluminum control arms, the ball joints are the same.
Alternative
If your truck has stamped steel control arms, you can install our ReadyLIFT 4″ SST Lift Kits which replaces the upper control arms and all problems are solved.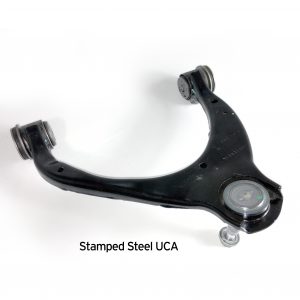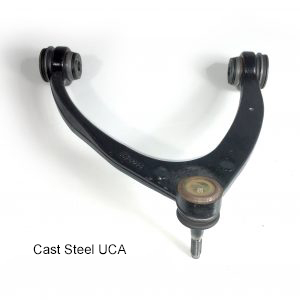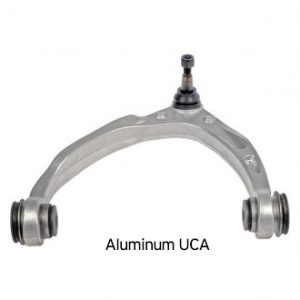 (stamped steel control arm) Stamped Steel Upper Control Arm – AVV code
(Cast aluminum control arm) Cast Aluminum Upper Control Arm
(Cast steel control arm) Cast Steel Upper Control Arm – 2007-up version